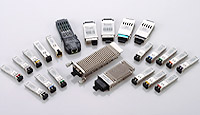 Fiber optic transceivers are widely used in telecommunication, CATV, FTTx, and various kinds of other data communications. We provide a wide range of fiber optic transceivers including GBIC,SFP,CWDM SFP,CWDM GBIC,XFP, SFP plus, Copper SFP, Copper GBIC, DWDM SFP, CWDM XENPAK, ESFP, 10G X2, 10G XENPAK, DWDM XFP, DWDM XENPAK, DWDM X2, Video SFP, 40G SFP, QSFP Cables, BIDI XFP, BIDI SFP+, etc.
We established a world-class factory with advanced production lines, auto test systems, every piece of our fiber optic transceivers are ensured the reliability and compatibility, and we have been putting a lot of effort and investment on quality control and employ treatment and logistics.
Currently we provide fiber optic transceivers for Fast Ethernet, Gigabit Ethernet, 10G Ethernet, Fibre Channel, SONET/SDH, CWDM/DWDM applications, working distance of our transceivers is to 120km range, and our fiber optic transceivers feature the reliability even in complicated working environment. Whether your requirement of the fiber optic transceivers is small or big, we are ready to offer you quality products and good service.