SFP Media converter
Feature
1000Base-T to 1000BASE-SX/LX Converter
Standard: IEEE 802.3z & 802.3ab
Interface: 1 x RJ-45 connector / 1 x SFP Slot
MDI/MDIX Auto-Crossover supported
LED: Power, DUP, FP-LINK, RX, 1000, TX
Plug-and-Play installation
Support Jumbo Frame (64-9216 Bytes)
Support Voltage Monitor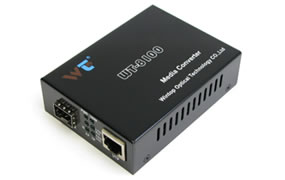 SFP Media converter

Feature

Net manageable module
It is the key-unit of the system, used to collect the
relational information from the media converters
installed in the chassis, and manage the functions of
media converters. It has one general 10/100M RJ45
port and one general RS232 console port.
 Full range of Wintop manageable media converters
or other manageable cards.
17 slots rack-mounted chassis
19 inch 1U rack-mount chassis, with 17 slots, can support 1 pc Net manageable module and 16 pcs manageable media converters. Normally it will be installed in center, so that the user can manage it easily. It has dual power supply; support NMS function .The fans can be managed.
 Manageable stand-alone media converters in remote end.